Jacksonville Florida Real Estate Market Report
Single Family homes (attached & detached)
Active Listings: 4495       Active Listings: 3653
Sold: 966                    Sold: 918
Months Inventory: 4.65       Months Inventory: 3.98
Average Price: 509,919         Average Price: 505,182
I'm reading reports about the market slowdown, like that's even news! If they had been paying attention to my market reports, I've been showing that trend since last fall. I guess I just keep flying under their radar. 🙂 Let's look at median homes prices. In Jacksonville for April 2013 the median sales price was $130,500. In April 2014, it was $135,200. That's a difference of 3.6% in the positive! Should we be worried? No! We have alot of positives above. Yes, we do see an increase in inventory this April, than we saw last year, but we also sold more this year. Also, the reason I like to show the different price points below, is because you get to see what each price range is doing. You can see the under 300k group is strong. Don't believe everything you hear or read, real estate is local. Sometimes, so local as county by county and even each neighborhood!
Jacksonville Florida Real Estate Market Report April 2014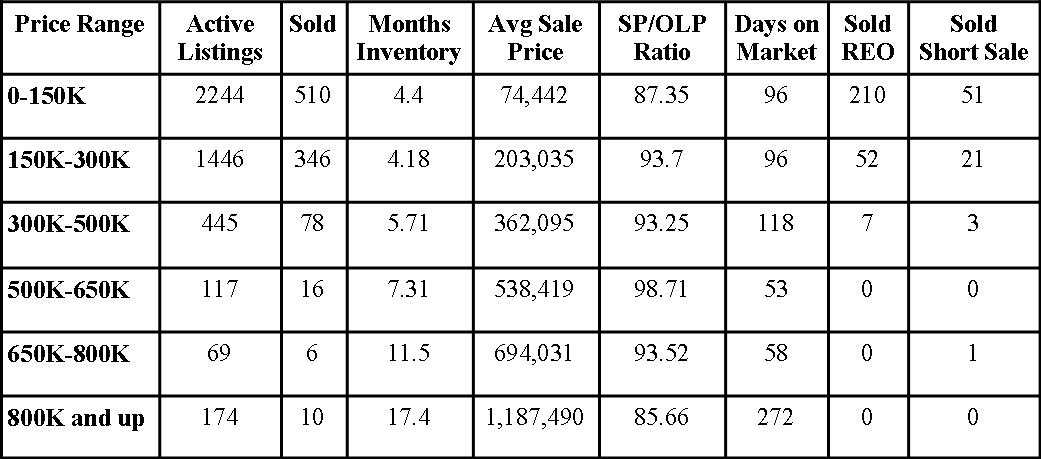 And now for a Blast in the Past…………..
Jacksonville Florida Real Estate Market Report April 2013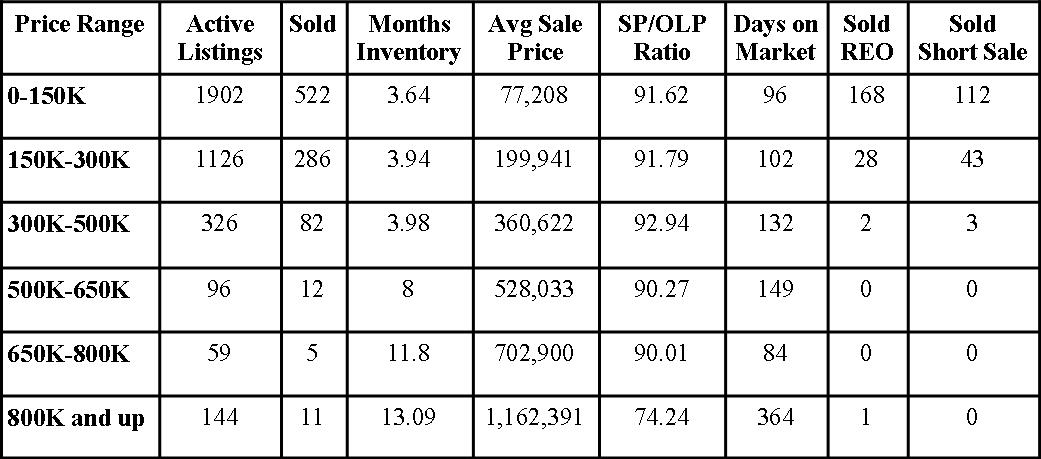 Active Listings– The amount of active listings in the month reported
Sold– The amount of sold listings that closed in the reported month.
Months Inventory– How many months it would take to sell the current inventory based on the sold amount.
Avg Sale Price– Average sale price of the sold houses in the reported month.
SP/OLP Ratio– Sales price to Original List Price, this is the percentage showing the difference of what the house was originally listed for and what it sold for.
Days on the Market– The length of time it took the house to get under contract from list date.
Sold REO– How many homes sold that were foreclosures (REO=Real Estate Owned).
Sold Short Sales– How many homes sold, that were short sales
Want to see what the real estate market looks like in your neighborhood?
FREE Home Value Report complete with current sales in the neighborhood and current homes available for sale.
If you want to search for homes in Jacksonville, check out this link: Search for homes for sale in Jacksonville Florida
Every neighborhood and house is different, want to know what these numbers mean to you when selling your Jacksonville Florida Home? Call me at 904-910-3516 and find out!
Comments
comments