Jacksonville Florida Real Estate Market Report
Single Family homes (attached & detached)
Active Listings: 4183             Active Listings: 3432

Sold: 673                   Sold: 658

Months Inventory: 6.22            Months Inventory: 5.22

Average Price: 534,589        Average Price: 506,572
Welcome back to another new year! Slightly different picture this year in January over last year. Our months inventory has crept back up to a more balanced market. Just in case you're new to my blog, especially the stat part. I want to point out if you scroll below, you will see definitions of what the abbreviations mean in the two charts. The median sales price in Jacksonville for January 2013 was $110,000. The median sales price for January 2014 in Jacksonville was $120,000. That's a difference of 9.1%.  What you won't find below is the definition of median price, so I'll explain here. It means out of all the houses sold in let's say January 2014, half of them sold for less than 120k, while the other half sold for more than 120k. So an increase in median price is a good thing and shows prices are coming up. Each neighborhood is different, heck, each house is different! If you would like to find out what's going on in your neighborhood, click on the free What's My Home Worth link and fill out the information about your home. Within 24 hours, you will receive a report via email with your results.
Jacksonville Florida Real Estate Market Report January 2014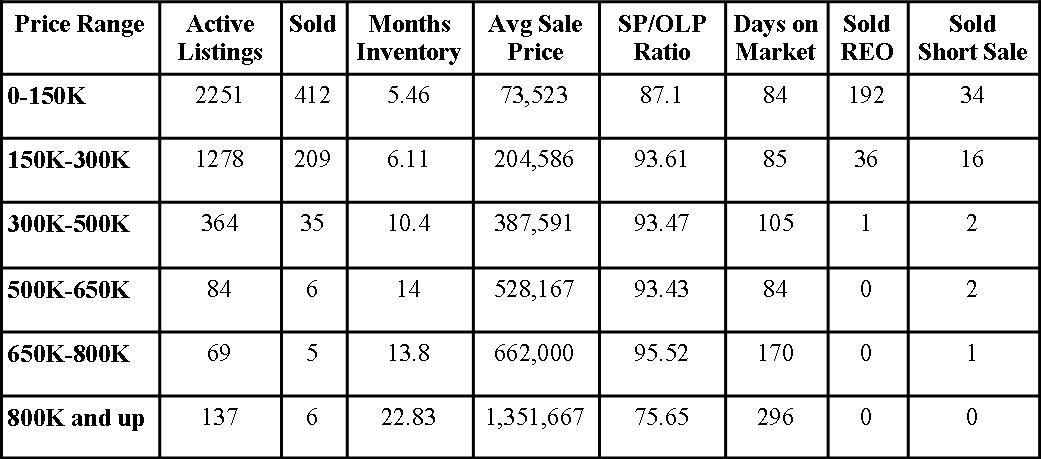 And now for a Blast in the Past…………..
Jacksonville Florida Real Estate Market Report January 2013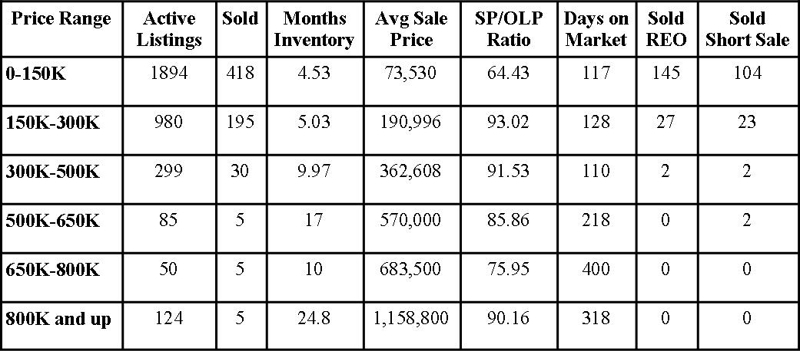 Active Listings– The amount of active listings in the month reported
Sold– The amount of sold listings that closed in the reported month.
Months Inventory– How many months it would take to sell the current inventory based on the sold amount.
Avg Sale Price– Average sale price of the sold houses in the reported month.
SP/OLP Ratio– Sales price to Original List Price, this is the percentage showing the difference of what the house was originally listed for and what it sold for.
Days on the Market– The length of time it took the house to get under contract from list date.
Sold REO– How many homes sold that were foreclosures (REO=Real Estate Owned).
Sold Short Sales– How many homes sold, that were short sales
Want to see what the real estate market looks like in your neighborhood?
FREE Home Value Report complete with current sales in the neighborhood and current homes available for sale.

If you want to search for homes in Jacksonville, check out this link: Search for homes for sale in Jacksonville Florida
Every neighborhood and house is different, want to know what these numbers mean to you when selling your Jacksonville Florida Home? Call me at 904-910-3516 and find out!
Comments
comments