Jacksonville Florida Real Estate Market Report
Single Family homes (attached & detached)
Active Listings: 4,084         Active Listings: 3,966

Sold: 806                           Sold: 635

Months Inventory: 5.07         Months Inventory: 6.25

Average Price: 473,450         Average Price: 520,748
Even though we have seen an increase in inventory compared to last year, we are still at a lower months inventory. Our inventory level went up and the homes sold in Jacksonville went down compared to last month in August. I expect to see a similar trend for October as well, due to getting closer to the major holidays, and with our current situation with our government's inability to do their job. I think many people will be a little more cautious to see how long the shutdown will continue, plus the fact that real estate has been slightly affected by the shutdown. Lenders require form 4506T (tax transcripts) from the IRS to verify income , but some are waiving that requirement right now.  USDA loans are also an issue. If a clear to close has been issued as of September 30, then those loans can still close. The longer the shutdown, the more issues will present themselves.
On a brighter note, cos I don't want to end this on sour grapes, the median sales price in September 2012 was $115,000, in September 2013 it was $134,000, that's a 16.5% increase! Love to end on a positive note! 🙂
Jacksonville Florida Real Estate Market Report September 2013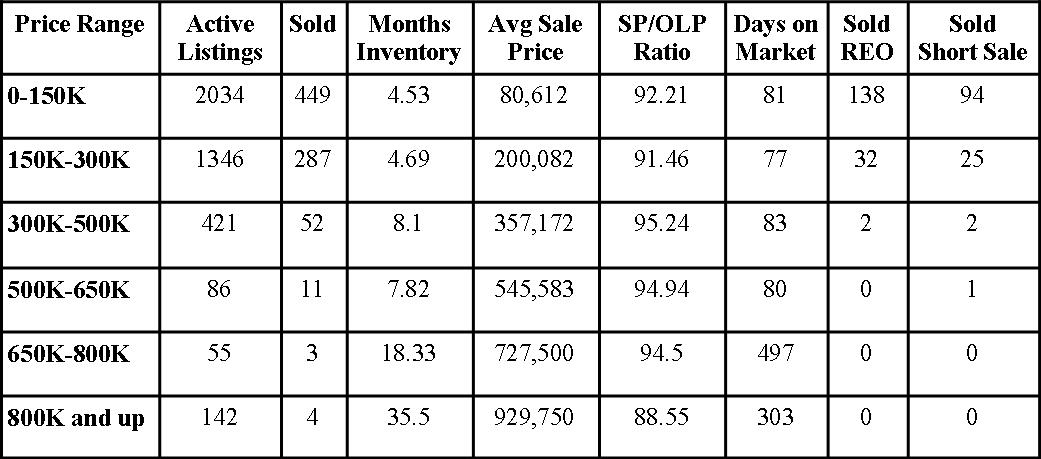 And now for a Blast in the Past…………..
Jacksonville Florida Real Estate Market Report September 2012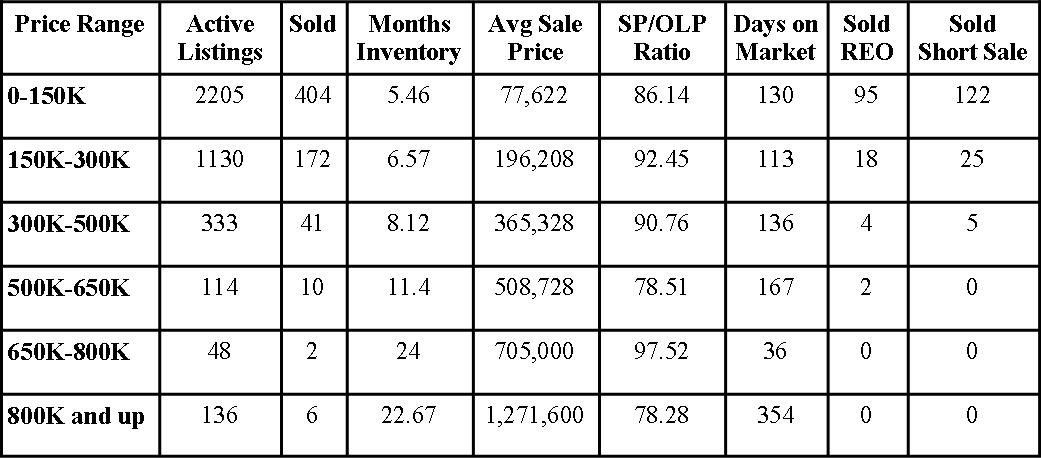 Active Listings– The amount of active listings in the month reported
Sold– The amount of sold listings that closed in the reported month.
Months Inventory– How many months it would take to sell the current inventory based on the sold amount.
Avg Sale Price– Average sale price of the sold houses in the reported month.
SP/OLP Ratio– Sales price to Original List Price, this is the percentage showing the difference of what the house was originally listed for and what it sold for.
Days on the Market– The length of time it took the house to get under contract from list date.
Sold REO– How many homes sold that were foreclosures (REO=Real Estate Owned).
Sold Short Sales– How many homes sold, that were short sales
Want to see what the real estate market looks like in your neighborhood?
FREE Home Value Report complete with current sales in the neighborhood and current homes available for sale.

If you want to search for homes in Jacksonville, check out this link: Search for homes for sale in Jacksonville Florida
Every neighborhood and house is different, want to know what these numbers mean to you when selling your Jacksonville Florida Home? Call me at 904-910-3516 and find out!
Comments
comments